How To Hire An NFT Artist
This blog post will explore how to hire an NFT artist on Fiverr and Upwork. We'll also touch on the added value of The NFT Generator and why it's important to get the IP rights along with your NFT art.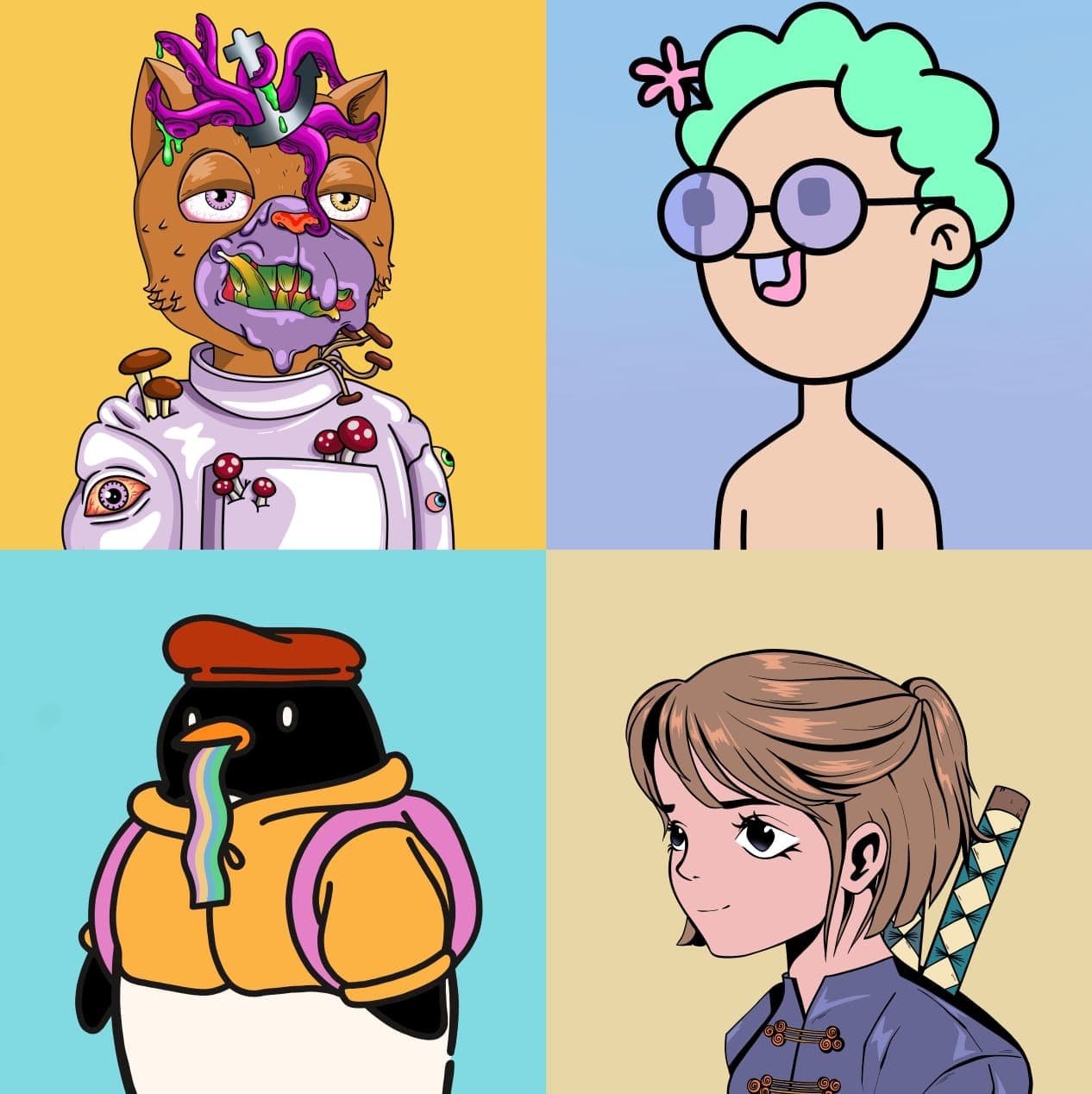 How To Hire An NFT Artist
How To Hire An NFT Artist On Fiverr
Fiverr is a marketplace where you can find freelancers offering a wide range of services, from graphic design to copywriting to video editing. To find an NFT artist on Fiverr, simply type 'NFT artist' into the search bar and browse through the results. You can filter the results by price, rating, location, and more. One of the great things about Fiverr is that you can see reviews from other buyers before you purchase a gig. This can be helpful in determining whether or not an artist is right for you.
How To Hire An NFT Artist On Upwork
Upwork is another freelancer marketplace similar to Fiverr. To find an NFT artist on Upwork, simply create a project and include 'NFT art' in your project description. Freelancers will then submit proposals for your project, and you can choose the one that's right for you.
One downside of Upwork is that it can take longer to find an NFT artist since you have to post a project and wait for proposals to come in rather than being able to browse through a list of freelances and pick one, as it is the case with Fiverr.
How To Select The Best Platform
Hiring an NFT artist doesn't have to be difficult—plenty of great services can help you find exactly what you're looking for. In this blog post, we've compared two of the most popular options: Fiverr and Upwork. If you're looking for a quick and easy way to browse through available artists, Fiverr is probably your best bet. However, if you don't mind taking some extra time to post a project and wait for proposals, Upwork may be a better option for you.
The Added Value of The NTF Generator Compared To The Alternatives
The NTF Generator offers several advantages compared to other platforms like Fiverr and Upwork. First and foremost, The NTF Generator provides explicit IP rights along with your NFT art collection. This means that you'll own the copyright to your purchased artwork and you'll be able to use it however you'd like—whether displaying it in your home or office or selling it for profit down the line. Additionally, The NTF Generator offers a 10k NFT generator, allowing users to generate up to 10,000 unique pieces of art with just a few clicks. This is perfect for those looking to add a large number of pieces to their collection or for those who want to sell generative artwork. And because they have a team of developers they can also help you deploy the NFT smart contracts needed to sell your NFTs to you community using their premade minting website.
Hiring an NFT Graphic Designer
When it comes to creating digital art, there is a lot to consider. Not only do you need to think about the overall look and feel of your project, but you also need to consider the technical aspects of file formats and resolution.
Here are a few tips to help you find the right NFT graphic designer for your project:
1. Define Your Project Goals and Objectives While Hiring an NFT Graphic Designer
When you're ready to hire an NFT graphic designer, the first step is to define your project goals and objectives. What are you looking to achieve with your digital artwork? What style are you going for? What is your budget? Once you have a clear idea of what you want, you can start searching for designers who specialize in that area. What are you hoping to achieve with your digital art? Be as specific as possible so that you can identify designers who have experience with similar projects.
2. Look For Designers Who Have Experience With NFTs
When looking for designers, be sure to look for those with experience working with NFTs. This technology is still relatively new, so it's important to find someone who knows how to create artwork that meets the specific requirements of an NFT. Otherwise, you may end up with artwork that doesn't work properly or has a lower quality than what you were expecting.
3. Do Your Own Research
Once you have a good idea of what you're looking for, take some time to research different designers. Look at their portfolios and read reviews from past clients. This will help you narrow down your options.
4. Check Out the Designer's Portfolio
This will help you get a good idea of their style and whether or not they're capable of creating the type of artwork you're looking for. If possible, try to find examples of their work.
5. Ask for References
If you're still unsure whether a particular designer is a right fit for your project, ask for references. This will give you a chance to speak with other clients who have worked with that designer and get a sense of their skill level. If you know someone who has worked with an NFT graphic designer in the past, ask for their opinion on who you should hire. They may have insights that you didn't consider.
6. Get Quotes
Once you've identified a few designers that you'd like to work with, reach out and get quotes for your project. This will help you compare pricing and choose the option that best fits your budget. By following these tips, you can be confident that you'll find the right NFT graphic designer for your next project. While hiring an NFT graphic designer can be challenging, plenty of talented designers out there are ready and able to help turn your project into a success.
Negotiating Terms with an NFT Artist
When negotiating terms with an NFT artist, there are a few key things to keep in mind:
1. Copyright Ownership
Intellectual property rights are important for NFT art collections for a number of reasons. First, they ensure who has the exclusive right to reproduce, distribute, and sell the art. This means that it specifies who can control how their work is used and reproduced, as well as who gets compensation for their sales of the artwork.
As we mentioned earlier, one of the disadvantages of working with an NFT artist is that they will retain the copyright to their work if you don't explicitly ask for it. This means they will have the exclusive right to reproduce, distribute, and sell their work—including any derivative works—for the life of the copyright (typically 70 years after the artist's death). So, if you're commissioning an original piece of art from an NFT artist, make sure that you're clear about who will own the copyright. By default our design services hand over all the IP rights to the buyer.
2. Price
When it comes to price, you should always keep in mind that prices for NFT art can vary widely depending on the popularity of the artist, the quality of their work, and the current market conditions. The advantage of using a streamlined service is that you have predictable pricing and you know what you'll get if you use our NFT graphic design services.
The Top Five Reasons to Choose Our NFT Graphic Design Services
Here are five reasons why you should consider hiring the NFT art design services from The NFT Generator instead of going and finding an independent artist on Fiverr or Upwork.
1. You'll Own the IP Rights to Your NFT Artwork
When you hire an NFT artist with the NFT Generator, you'll own the intellectual property rights to your artwork. This means that you'll be able to do whatever you want with your NFT, including selling to you community with the peace of mind that comes from knowing that you won't have any issues over who owns the IP afterwards. You can display and market your collection on your website or social media platforms with tranquility. Other services, such as Fiverr and Upwork, do not offer explicit IP rights transfer with their services. This makes it difficult to know what you can and cannot do with your NFT art after it has been created.
2. You'll Get a Unique and Original Piece of Artwork
When you commission an art collection from the NFT Generator, you can be confident that you're getting a unique and original piece of artwork. All our artists are extremely talented and specialize on NFT art graphic design. This ensures that your NFT collection will be a one-of-a-kind blue-chip project.
3. You Can Choose from a Wide Range of Art Style
The NFT Generator offers a wide range of art styles to choose from such as cartoon, anime, pixel art, comi, etc. So you're sure to find one that fits your style. Whether you're looking for a traditional concept or something more innovative, we can make it happen.
4. You'll Receive a Personalized Service
When you buy from the NFT Generator, you can be confident that you'll receive a personalized service throughout the process. You don't need to hire an artist directly but you will deal directly with a project manager that will make sure all your needs are met. From submitting your requirements to receiving the end product, our team will be there to help you every step of the way. We understand that this is a new technology and it can be confusing at times, so we're here to help with any questions you may have.
Final Thoughts
When you're hiring an NFT artist, it's important to consider their skill set and experience. A good NFT graphic designer will be able to create visually stunning artwork that can be sold as an NFT. They should also be well-versed in NFT smart contracts, as you'll need to deploy one to sell your NFTs and have your community mint them.
To find a qualified NFT you need to take the time to search online looking at their portfolios. Look for artists who have experience creating NFTs and a style you like. Once you've found a few potential candidates, reach out to them and ask for quotes. Be sure to provide them with as much information as possible about your project so they can give you an accurate estimate.
A better alternative is to select one of the NFT art design services packages of The NFT Generator which instantly puts your project into the hands of a talented team of NFT artists who can distill your vision into reality through high-quality work and deliver your NFT art collection on time, as well as provide you with further assistance deploying your NFT smart contract and creating your minting website so your community can buy your NFT collection with ease.